For the past month NB Dental have been taking part in the oral care recycling program through TerraCycle called "The Colgate Brigade". We have been collecting dental waste to send onto TerraCycle for recycling which will in turn help us raise money to support local schools. You can also win some great gifts for taking part and joining us on the war on waste.
What is TerraCycle?
TerraCycle is Eliminating the Idea of Waste® by recycling the "non-recyclable." Whether it's coffee capsules from your home, pens from a school, or plastic gloves from a manufacturing facility, TerraCycle can collect and recycle almost any form of waste. We partner with individual collectors such as yourself, as well as major consumer product companies, retailers, manufacturers, municipalities, and small businesses across 20 different countries. With your help, we are able to divert millions of pounds of waste from landfills and incinerators each month.
How is NB Dental fighting the war on waste?
We are calling upon our patients to help us make a positive impact and join us on this adventure. You can help by bringing in accepted waste from the list approved by TerraCycle below to drop into our collection bin at reception. Accepted waste can be Floss Containers, Toothpaste Tubes and Caps, Toothbrushes, Toothbrush and toothpaste tube packaging. TerraCycle will accept any brand of these products not only Colgate branded products. We are so passionate about helping make a difference we will reward you for joining us! Each piece of accepted waste you bring into the practice will enter your name into the draw to our monthly raffle. You could win family passes for all sorts of adventures, store gift cards just for a couple of examples. Just ask our reception team for the draw entry form when you bring your accepted waste in for recycling.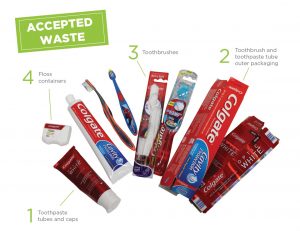 As most are probably already aware Dentistry and the medical industry in general does unfortunately create a lot of environmental waste with all of the single use products required to treat patients from day to day. This is not something that can be or should ever be compromised so our dentists are always looking for other ways which we can help. Some patients may have noticed we have already moved to paper recyclable bags for our patient take home toothbrush packs. Other ways in which we have been flying under the radar in this venture are
Sourcing business stationary (Business cards, Letterhead, envelopes etc) from recycled paper and cardboard.
Using dedicated bins for recycling.
Using reusable drink bottles over single use plastic ones.
Using recycled cups and other paper products such as paper towels, tissues etc wherever we can in clinic.
Our team makes a very conscious effort daily wherever we can to help reduce landfill.
From this month forward we will also be extending our commitment to this program. TerraCycle have produced "Zero Waste" boxes to provide solutions to those difficult to recycle waste products. We are very proud to announce we will be adding this part of the program into our practice so we can now use these facilities to dispose of our masks, gloves and other clinical or office waste products created. Take a look out for these boxes at your next dental appointment!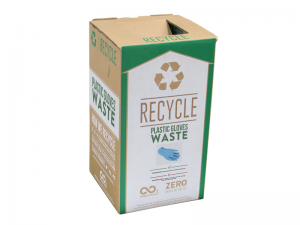 Click this link some other fun ways you can up cycle your used packaging at home to help reduce landfill- With less than 14 weeks to go until Santa visits make sure you check out the DIY Christmas tree decorations. This could add an extra element of fun to the school holidays!!