As you all know, we have been collecting most of your old/used oral hygiene products to recycle- thanks to TERRACYCLE.
First of all, what is the TerraCycle program?
TerraCycle has partnered up with Colgate to collect and recycle as many oral care products (floss, toothbrushes, toothpaste tubes and toothbrush outter packaging) as possible. These products are made from a type of plastic that never can be broken down UNLESS properly recycled. That's right! That toothbrush that needs to be thrown away is a household product that usually gets thrown into landfill and never given the opportunity to be recycled. So what's our plan? Well we want everyone within our community to be aware and to collect as much of these oral hygiene products as possible! So then the waste is then separated by polymer type, cleaned, and extruded into plastic pellets to make new recycled products.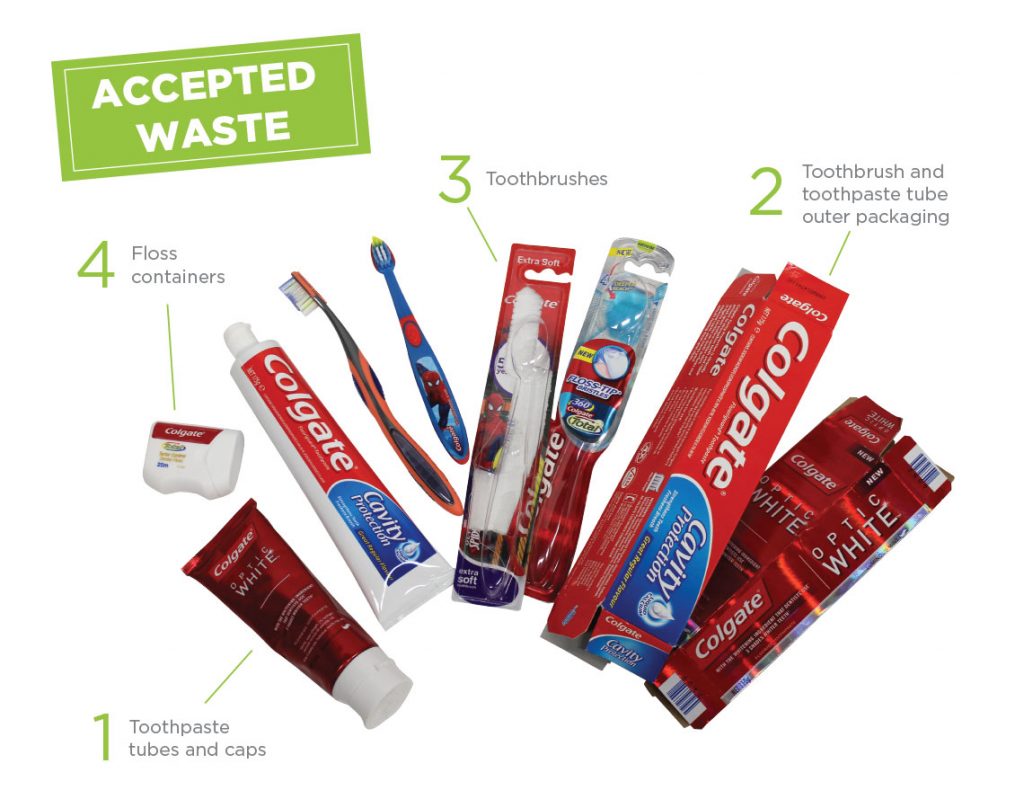 Each product handed in can be redeemed for a payment of $0.02 per unit received to the non-profit organisation or school of choice. How great is that? Talk about encouraging the community for the greater good!
So what does the TerraCycle program mean to us at NB Dental? We wish to promote the TerraCycle program and create interest within our community to take actionable steps to recycle. Being apart of the medical realm makes it challenging with most products and equipment being single-use and therefore makes it even more important to recycle wherever possible. Implementing alternatives in our practice to limit our waste has been an objective for us in 2019 such as; introducing biodegradable medical wrapping and cups, autoclavable/reusable instruments (that of course comply with our very high infection control guidelines), using hand towels instead of paper towels for in-house bathrooms and recycling whenever and whatever possible. Drop in your old toothbrush (or any item from the accepted waste above) into the practice and you will go into the draw to win a $50 Biome gift card. There is a gift card to win every month!
During this process we have discovered that the amazing brand- Biome also work towards the greater good for the environment and community. Offering fantastic alternatives for a lot of everyday items. We really wanted to get an insight of how Biome came to life and what motivates them. This is a company that has won more than 14 awards (see https://www.biome.com.au/ for more).
With great excitement we announce that we've had the privilege to chat to the founder of BIOME; Tracey Bailey to extend her point of view on recycling and the TerraCycle program. All staff members at NB Dental LOVE Biome and have been regular visitors to their Paddington shop. Biome is a company that live and breathe ' zero waste, toxic free and ethical choices'.
Tracey, could you briefly walk us through what your brand / company do and advocate for?
Biome offers all the products and tools needed to live a zero waste, toxin free and ethical lifestyle, ranging from reusable coffee cups and beeswax wraps to organic skincare, and toxin free cleaning. We help consumers shop by the values important to them such as vegan, plastic free and palm oil free, knowing that the products have passed our strict criteria and are verified for truth in labelling, safe ingredients and zero harm to people, animals and the planet.
With innovation at our core focus, we have led the way for socially responsible retailing by becoming Australia's first certified B Corporation, launching Australia's first Naked Beauty Bar, helping consumers save over 10 million single use waste items from landfill in 12 months, establishing a TerraCycle in store recycling initiative and becoming the world's first Palm Oil Investigations certified retailer for being 100% free from palm oil.
We are driven by doing what's right for the community, not what's easy or most profitable, and operate at a high social and environmental level, considering business impacts and being responsible for them. Through our thriving online community, grassroots and school partnerships, like-minded suppliers, social media networks, and four brick and mortar stores, we educate and advocate for the changes we want to see in the world and inspire others to live more harmoniously.
We understand that in the waste hierarchy recycling is one of the last steps (Refuse/reduce, reuse and Recycle) and although it's not on top of the list, we know that making small actionable steps will make a massive impact if the community got involved but just how much of an impact would it have on the environment?
Recycling is an important part of the waste hierarchy as it diverts waste from landfill and keeps it in the loop longer maximising the resources and materials already used to produce the items in the first place. People tend to forget that it's not just about the waste at the end, but the precious non-renewable resources that go into making each item in the first place.
As a consumer you possess immense power to effect larger changes through your everyday actions. Every year we demonstrate the impact of combined actions through our Power of One campaign. Last year, we calculated and revealed Biome's customers saved over 10 million single-use items from landfill by using their reusable products. When we, as an individual, consider the environmental repercussions of our actions, we can begin to shape a more responsible community and collectively influence change.
Biome is about promoting zero waste. Why is it so important to divert waste from landfill?
Australians produce approximately 67 million tonnes of waste annually, and since 2005, recycling has risen at a faster rate with Australians now recycling approximately 58% of all waste generated and the rest being disposed in landfill.
There are many ways recycling positively impacts the environment. It not only reduces landfill waste, but it helps to lower greenhouse gas emissions. Waste left to decompose or degrade in the dense layers of landfill emits tonnes of potent gasses that harm the environment.
Although recycling is a better option than discarding the items in landfill, it's important to reduce the waste we produce in the first place by searching for zero waste alternatives. To significantly reduce our waste, we need to start monitoring the things we discard and start asking ourselves – "is there is a waste free solution that can prevent me from producing this waste again?"
In Australia there is 3,250 locations participating in the TerraCycle program, waste recycled: 441,104 and so far money raised: 7,339.49. Is it exciting to you to see people get involved and make a difference?
It's exciting to see many businesses and individuals taking part in the TerraCycle initiative and choosing to divert their waste from landfill. Our reliance on landfill as a waste management system is already having a massive impact on the health of our planet, and while the problems on a global scale can seem overwhelming, on a personal level it is more achievable. Simple changes such as recycling items through TerraCycle can collectively reduce a significant amount of waste and pollution, and of course save precious resources.
And lastly, what motivates you to do what you do to make a difference?
I'm motivated daily by our community of conscious consumers, our small local eco-suppliers, the dedicated Biome team, and the relentless quest to improve the current conditions of the environment.
I love seeing how Biome has impacted the community in various ways from the local employment it provides for our 60 employees, to the support for small Australian businesses and producers, and seeing how the collective power of like-minded individuals can create significant change.
So for all those who are feeling motivated by such an amazing women with all that she does. You can drop off most of your old/used oral hygiene products to US or Biome (see https://www.biome.com.au/ & https://www.facebook.com/ninabambinodental/ ).

A famous quote comes to mind: " I always wondered why somebody didn't do something about that. Then I realised I was somebody". Make a change today!