The 21st century has brought many wonderful discoveries! One being the advance of technology. It's created new doors of opportunity within communication, medical, geologic wonders and continue to do so in many more mind-boggling realms.
It was only in 2004 that Facebook first came to an existence. The iPhone was only 12 years ago and the first 50-inch flat-screen T.V. was 6 years ago! So, that being all well and good what about the changes in dental? More specifically-toothbrushes. What's all the fuss about?
Well when it comes to the type of handle (such as non-slip grip or flexible neck), shape of the head (tapered or rectangular) and style of bristles (such as rippled, flat or trimmed to a dome shape), pick whatever is most comfortable for you. Remembering that the best toothbrush is one that fits your mouth and allows you to reach all teeth and clean easily.
So yes, that leaves the door open for lots of options. Prime example is the electric toothbrush. Electric toothbrushes offer a fantastic alternative for children or for people who have difficulty brushing or who have limited manual dexterity.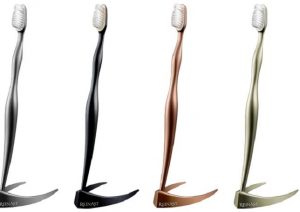 To name a few impressive features, they can offer ultrasonic vibration to remove plaque and tartar, pressure censored, some can remove up to 10x more plaque and improve gum health up to 7x in 2 weeks (in gum health mode vs. a manual toothbrush), some promise to remove 100% more stains in just 3 days, offer Bluetooth, can play your music from your iPhone, some may even have position detection which uses facial recognition to help you know where you've brushed, so you never miss a zone. They can even have a fancy price-tag of $4,200 (Reinast Titanium Toothbrush, said to be used by Donald Trump). All for the better health of your mouth, all in the name of the electric toothbrush!
But what about the rest of us who don't want to conform to using a Bluetooth eligible toothbrush? There are still some of us with a manual toothbrush that love the simple features and the mechanical action of brushing your own teeth with that forwards and backwards motion. Well good news! Introducing the Curaprox. Said to be the best manual toothbrush on today's market. Created by the Swiss in 1974, with a reputation that precedes itself. Why you ask? Your average toothbrush has 2,500 bristles, where the curaprox ultrasoft has 5,460. The bristles are made of curen which are clinically proven to be 6x more absorbent (than your average toothbrush) of water and impossible to be abrasive to your soft tissues.
Dental plaque is the consistency of yoghurt. So why brush your teeth with a medium toothbrush that would be the equivalent of brushing your teeth with steel wool? We need a soft brush that offers effective cleaning without injury. TRY IT! The brush is amazing! There's a reason why we stock it here at NB Dental and why oral health professionals highly recommend it.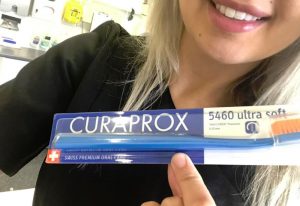 ©TashClark